Main content starts here, tab to start navigating
Menus
Slide 1 of 6
Slide 2 of 6
Slide 3 of 6
Slide 4 of 6
Slide 5 of 6
Slide 6 of 6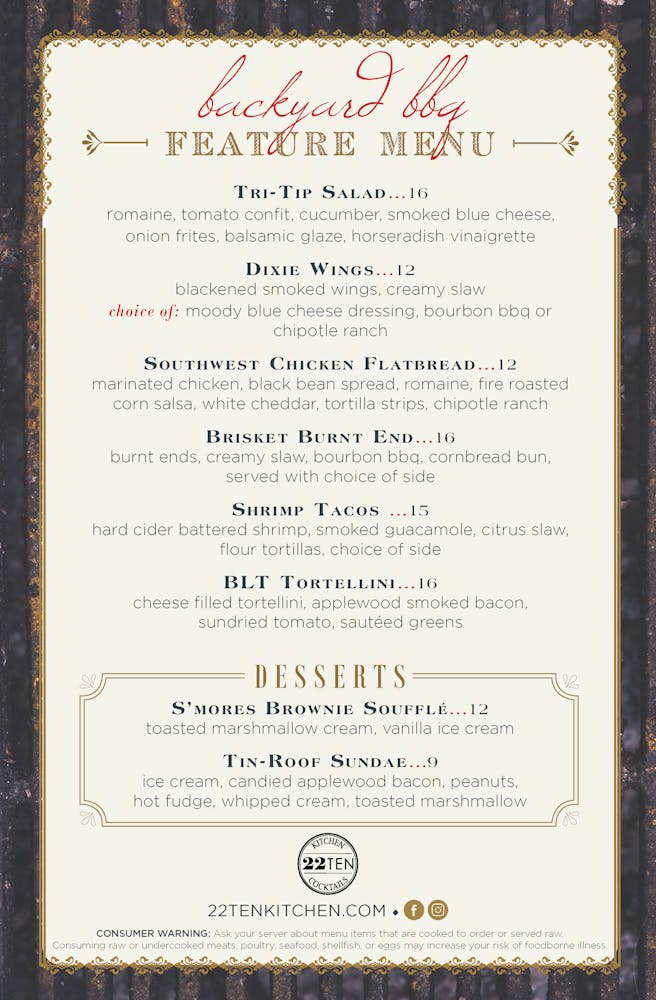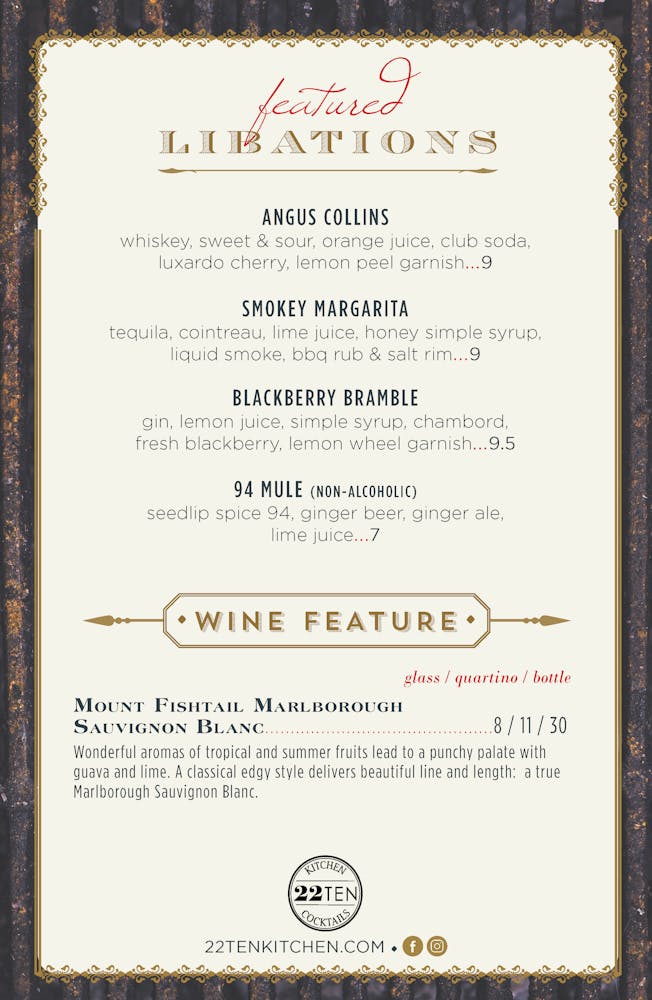 Shareables
Chili Shrimp

lightly dusted & fried, coconut sweet chili, pepper slaw, sriracha, scallion

$13

Brussels & Artichoke Dip

shaved brussels sprout, artichoke, white cheddar-gouda, roasted garlic, toast points

$11

Moroccan Nacho

wonton chips, braised beef, white cheddar mornay, tomato confit, onion frites, jalapeños, sriracha aioli

$14

Chislic

peppercorn truffle ranch, frites, parsley

$15

Quesadilla

green chili chicken, cotija, smoked gouda, pico, flour tortilla, cilantro lime cream

$11

Elk Ravioli

mushroom, garlic, shallot, tomato, swiss chard, brown butter, sage, white wine, gruyere

$15

Angus Sliders

(3) american, garlic aioli, pickles

$12
The Garden
Add Salmon +7 / Shrimp +6 / Chicken +4
Simple

field greens, carrot, red onion, sprout, cucumber, heirloom tomato, crouton, choice of dressing

$10

Petite $6

Brutus

romaine, hardboiled egg, parmesan, crouton, red onion, tomato, greek yogurt-caesar dressing

$10

Petite $6

Spinach Chèvre & Fennel

spinach, arugula, kale, heirloom tomato, kalamata olive, chèvre, candied orange, white balsamic vinaigrette

$11

Petite $7

Chop Chop

romaine, roast turkey, provolone, tomato, corn, scallion, tortilla strips, chili-lime vinaigrette

$13

Salmon

field greens, grilled salmon, poached pear, curried walnut, feta, heirloom tomato, white balsamic vinaigrette

$16
Mix.Match.2
At 22TEN Kitchen Cocktails, we recognize that choices and eating right are important to an everyday lunch. Create your lunch by selecting two luncheon-sized items from the sections below for $12
Half Reuben

Half Mac & Cheese

Half 22TEN club

Half Chicken Salad

2 Angus Sliders

2 Quesadillas

Simple Salad

Brutus Salad

Fennel Salad

House Soup
Between Bread
Served with choice of: sea salt fries, balsamic brussels, grilled asparagus, glazed carrots, pepper slaw, garlic mashed potato, parmesan roasted potato, or fresh fruit. SUB: sweet potato fries or salad +2
Simple Burger

lettuce, tomato, onion, pickle

$12

Add Cheese - American, Cheddar, Swiss, Pepperjack $1

Add Bacon $2

Upgrade to Buffalo $4

Cowboy Burger

cajun bacon, bbq sauce, roasted jalapeño, pepperjack, onion frites

$14

THAT 'S MY JAM BURGER

bacon onion jam, smoked gouda, lettuce, tomato

$14

White Buffalo Burger

dry aged buffalo, chive-pesto aioli, grilled mushroom, swiss cheese, arugula

$15

REUBEN

braised corned beef, kraut, russian dressing, swiss, ny rye

$13.50

CHICKEN MELT

buttermilk-fried chicken, bacon, white cheddar, parmesan-crusted sourdough, sweet mustard dressing

$13.50

Chicken BLT

grilled chicken breast, bacon, swiss, lettuce, tomato, garlic aioli, house bun

$13

House Gyro

shaved beef, tomato, cucumber, red onion, romaine, naan bread, yogurt mint sauce

$14

Beef Naan Melt

braised beef, white cheddar, jack cheese, mushroom, onion, naan bread

$14

22 TEN club

ham, turkey, bacon, tomato, lettuce, cream cheese spread, toasted everything bread

$12

Chicken Salad

lettuce, tomato, alfalfa sprout, bell pepper, onion, celery, croissant

$12
Signature
ADD soup or petite simple salad or petite brutus salad +3 / SUB petite spinach chèvre fennel salad +4
SHRIMP & GRITS

tasso-white cheddar grits, garlic, bacon, shallot, herb, lemon, cajun gastrique, swiss chard, micro greens

$15

MAC & CHEESE

bacon, mushroom, parsley, garlic cream, smoked gouda, gruyere, chèvre, penne, breadcrumb

$12

Add Grilled Chicken $4

Seafood Alfredo

pan seared gulf shrimp, scallop, tillamook white cheddar, garlic, white wine-lobster cream, tomato confit, fettuccine

$16

KUNG POW BOWL

shaved beef, mushroom, bell pepper, snap pea, shallot, carrot, scallion, basmati rice, soy caramel

$14

GRILLED SALMON

beet creamed wild rice, chive-walnut pesto

$16

SALMON PONZU

ponzu glazed red onion, mushroom, snap pea, coconut green curry basmati rice, finished with citrus ginger glaze & scallion

$16

Pierogies & Steak Tips

marinated steak tips, truffle ranch, caramelized mushroom & onion, potato strings, parsley

$16
SHAREABLES
Baked Brie

puff pastry, blueberry-lemon compote, candied almonds, arugula, toast points

$11

CHILI SHRIMP

lightly dusted & fried, coconut sweet chili, pepper slaw, sriracha, scallion

$13

BRUSSELS & ARTICHOKE DIP

shaved brussels sprout, artichoke, white cheddar-gouda, roasted garlic, toast points

$11

Moroccan Nacho

wonton chips, braised beef, white cheddar mornay, tomato confit, onion frites, jalapeños, sriracha ailoli

$14

CHISLIC

peppercorn truffle ranch, frites, parsley

$15

Calamari

coconut breaded, piña colada sauce, spicy mango aioli, field greens

$13

QUESADILLA

green chili chicken, cotija, smoked gouda, pico, flour tortilla, cilantro lime cream

$11

Elk Ravioli

mushroom, garlic, shallot, tomato, swiss chard, brown butter, sage, white wine, gruyere

$15

Angus Burger Sliders (3)

american, garlic aioli, pickles

$12
THE GARDEN
Add Salmon +7 / Shrimp +6 / Chicken +4
SIMPLE

field greens, carrot, red onion, sprout, cucumber, heirloom tomato, crouton, choice of dressing

$10

Petite $6

BRUTUS

romaine, hardboiled egg, parmesan, crouton, red onion, tomato, greek yogurt-caesar dressing

$10

Petite $6

Spinach Chèvre & Fennel

spinach, arugula, kale, heirloom tomato, kalamata olive, chèvre, candied orange, white balsamic vinaigrette

$11

Petite $7

Chop Chop

romaine, roast turkey, provolone, tomato, corn, scallion, tortilla strips, chili-lime vinaigrette

$13

Salmon

field greens, grilled salmon, poached pear, curried walnut, feta, heirloom tomato, white balsamic vinaigrette

$16
Between Bread
Served with choice of side: Sea Salt Fries, Balsamic Brussels Sprouts, Grilled Asparagus, Pepper Slaw, Parmesan Roasted Potato, Garlic Mashed Potato or Fresh Fruit. SUB: Sweet Potato Fries or Salad +2
SIMPLE BURGER

lettuce, tomato, onion, pickle, house bun

$12

Add Cheese - American, Cheddar, Swiss, Pepperjack $1

Add Bacon $2

COWBOY BURGER

cajun bacon, bbq sauce, roasted jalapeños, pepperjack, onion frites

$15

THAT'S MY JAM BURGER

bacon onion jam, smoked gouda, lettuce, tomato

$14

White Buffalo Burger

dry aged ground buffalo, chive-pesto aioli, grilled mushroom, swiss cheese, arugula

$15

Chicken BLT

grilled chicken breast, bacon, swiss, lettuce, tomato, garlic aioli, house bun

$13

CHICKEN MELT

buttermilk fried chicken, bacon, white cheddar, parmesan crusted sourdough, sweet mustard dressing

$13.50

REUBEN

braised corned beef, kraut, russian dressing, swiss, ny rye

$13.50
Steaks
ADD Soup, Petite Simple Salad or Petite Brutus Salad +3 / SUB: Petite Spinach CHÈVRE & FENNEL SALAD +4
SIRLOIN BLUE

garlic mashed potato, blue cheese cream, balsamic reduction, onion frites

$23

Pierogies & Steak Tips

marinated steak tips, truffle ranch, caramelized mushroom & onion, potato strings, parsley

$21

New York Oscar

12oz, grilled new york strip, three pan seared shrimp, béarnaise, carrot, garlic mashed potato

$36

House Ribeye

12oz, parmesan roasted red potato, roasted grape & caramelized pearl onion, asparagus, balsamic reduction

$38
Butcher's Box
House Cut, Served with choice of side: GLAZED CARROTS / ASPARAGUS / BALSAMIC BRUSSELS SPROUTS / GARLIC MASHED POTATO / PARMESAN ROASTED POTATO / SEA SALT FRIES / WILD RICE BLEND / BASMATI RICE sub: SWEET POTATO FRIES OR TASSO-WHITE CHEDDAR GRITS...+2 Steak Enhancement: PEPPER CRUSTED WITH BOURBON-PEPPER DEMI...+2
12oz Ribeye

$34

12oz New York Strip

$32

8oz Sirloin

$20
Signature
ADD: SOUP, PETITE SIMPLE SALAD OR PETITE BRUTUS SALAD +3 / SUB: PETITE SPINACH CHÈVRE & FENNEL SALAD +4
SHRIMP & GRITS

tasso-white cheddar grits, garlic, bacon, shallot, herb, lemon, cajun gastrique, swiss chard, micro greens

$20

Pork Marsala

seared porkloin, mushroom, pearl onion, marsala cream, garlic mashed potato

$20

MAC & CHEESE

bacon, mushroom, parsley, garlic cream, smoked gouda, gruyere, chèvre, penne, breadcrumb

$15

Add Grilled Chicken $4

Seafood Alfredo

pan seared gulf shrimp, sea scallop, tillamook white cheddar, garlic, white wine-lobster cream, tomato confit, fettuccine

$21

KUNG POW BOWL

shaved beef, mushroom, bell pepper, snap pea, shallot, carrot, scallion, basmati rice, soy caramel

$21

Add Chicken & Shrimp $4

Grilled SALMON

beet creamed wild rice, roasted brussels sprout, chive-walnut pesto

$23

SALMON PONZU

ponzu glazed red onion, mushroom, snap pea, coconut green curry basmati rice, finished with citrus ginger glaze

$23

FRENCH CHICKEN

garlic mashed potato, asparagus & carrots, glace de poulet, candied orange

$20

Walleye

lightly breaded, grilled, parmesan butter, carrot, parmesan roasted potato, charred lemon

$25
Monday - Saturday: 3PM-6PM
(Available in the Bar or Patio Only)
Happy Hour
$2 Off

shareables & sliders, draught beer

$1 OFF

wines by the glass, specialty cocktails, premium wells
Cocktails
Pear Old Fashioned

pear anise syrup, dickel rye, ginger ale

$9

Cucumber Basil Smash

vodka, housemade sweet & sour, fresh lime, lemon, basil & cucumber

$8

Royal Margarita

patron silver, crème de violette, housemade sweet & sour, float of chambord, sugar rim...

$11

Mai Tai

captain morgan, house made simple syrup, orgeat syrup, crème d' orange, fresh lime, pineapple & orange juice

$8

Mango Margarita

cuervo gold tequila, triple sec, housemade mango sweet & sour, jalapeño slices

$9

Elderflower Gimlet

hendricks gin, st. germain liqueur, simple syrup, fresh lime juice

$8.50

Sangria

red or white

$7
Mules
Moscow

tito's, ginger beer, fresh lime

$6

Cran-Orange

tito's, cranberry & orange juice, ginger beer

$6

Sour Cherry

tito's, tattersall sour cherry, ginger beer

$8
Martinis
Lemon Drop

citron, triple sec, house made simple syrup, fresh lemon, sugared rim

$8

Cucumber

vodka, st. germain, dry vermouth, muddled cucumber, cucumber garnish

$8

Hazelnut Espresso

frangelico, kahlúa, cold brew coffee, dollop of whipped cream

$9

Blueberry

tattersall blueberry liqueur, elderflower, fresh lime juice, simple syrup

$8.50

Tiramisu

bailey's irish cream, kahlúa, vanilla vodka, crème de cacao, cocoa powder

$9.50

Mother Earth

hendrick's gin, crème de violette, house made sweet & sour

$9
Classics
Whiskey Sour

maker's mark, housemade sweet & sour

$8

Manhattan

bourbon, sweet vermouth, bitters

$8

Old Fashioned

bourbon, muddled fruit, bitters

$8
Beer
Draught

bud light, coors light, stella artois, blue moon belgian white, fernson lion's paw lager, woodgrain american IPA, founders all day session IPA

Rotating Local Brews

Remedy, Ben's Brewing, Homestead Brewing, Buffalo Ridge

Seasonal

Ask your server about our seasonal draught selection!

Bottles & Cans

bud light, miller lite, michelob ultra, budweiser, corona, o'doul's (na), white claw, truly

Seltzers

White Claw (black cherry & mango), Truly (strawberry lemonade)
Red Wine
Cabernet Sauvignon

Blackstone

sonoma county, ca

G $7

Q $10

foxglove

paso robles, ca

G $9

Q $13

goldschmidt katherine

alexander valley, ca

G $12

Q $17.50
Pinot Noir

Mark West

california

G $7.50

Q $10.25

elouan

oregon

G $9.50

Q $13.75
Interesting Reds

wrangler red

california

G $7.50

Q $10.75
White Wine
Chardonnay

blackstone

california

G $7

Q $10

cambria

santa maria valley, ca

G $9.50

Q $13.75
Pinot Grigio

mason cellars 'three pears'

lodi, ca

G $7.50

Q $11
Sauvignon Blanc

hess shirttail ranches

california

G $7.50

Q $10.25

villa maria

marlborough, new zealand

G $8.50

Q $12.25
Riesling & Moscato

j. lohr bay mist

monterey, ca

G $8

Q $11.50

stella rosa moscato d' asti

piedmont, italy

G $8

Q $11.50
Bubbles & Rosé
Sparkling

zonin prosecco

italy

G $8

Q $11.50
Rosé

bertrand cote de roses

france

G $9.50

Q $13.75
*WINES SUBJECT TO CHANGE BASED ON AVAILABILITY.
Dessert
VANILLA BEAN CRÈME BRÛLÉE

with blueberry lemon compote

$8

Chocolate Layer Cake

sponge cake, chocolate ganache mousse, coffee & cocoa dust, crème anglaise

$9

RICOTTA CHEESECAKE

vanilla-ricotta custard, brown butter graham cracker crust. Topped with your choice of blueberry compote, strawberry syrup, or dark chocolate ganache

$8

CHURRO WAFFLE

whipped cream, strawberry syrup, cinnamon sugar, vanilla bean ice cream

$7
Kids Menu
Ages 8 and under All kid meals are served with your choice of fries, kid salad or fresh fruit.
Grilled Chicken

salt & pepper seasoned chicken breast, grilled to order

$8

Quesadillas

chicken, bacon, cheddar, ranch dressing

$9

Cheeseburgers

2 mini burgers, american cheese, pickles

$9

Mac & Cheese

classic done right

$9

Grilled Cheese

sourdough, american, cheddar

$9